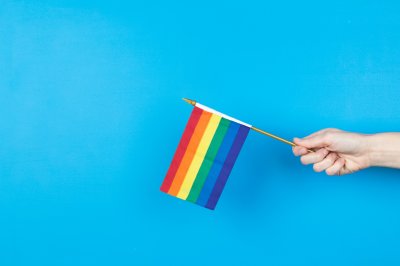 ​Parents and Friends of Lesbians and Gays (PFLAG) is a national support, education and advocacy organization for lesbian, gay, bisexual and transgender (LGBT) individuals, along with their families, friends and allies. 

The idea for PFLAG was born in 1972, when a mother publicly supported her gay son. With over 200,000 members in the United States, PFLAG is the largest grassroots-based family organization of its kind. PFLAG is a non-profit organization and is not affiliated with any religious or political institutions.

PFLAG 's mission is to support lesbian, gay, bisexual, and transgendered individuals, along with their families and allies, by (1) providing support to those who need it, (2) educating family and communities regarding sexual orientation, gender identity and LGBT issues, and (3) advocating to end discrimination and advance equality for LGBT people. 

PFLAG Richmond has been a fixture in the community for over 20 years.  is over 20 years old!    We celebrated our birthday with friends and allies on October 23, 2015 at Diversity Richmond.

The values of PFLAG and of this chapter stress education, understanding, acceptance, and support, but most of all love, thereby empowering our children — straight, gay, gender variant, questioning, etc.  — to lead happy and productive lives.

We have accomplished a lot over the past few years with limited resources and committed volunteers. Some highlights:

Held monthly group meetings to support our local GLBT community and their families.  

Co-sponsored the Transgender Day of Remembrance.
Collected petition signatures for the restoration of GLBT adoption and fostering rights.
Lobbied Virginia lawmakers at Equality Virginia's Lobby Day at the General Assembly.
Reached out to the community through our presence at Richmond Pride, Virginia TIES, Diversity Day at the Veterans' Hospital in Richmond, and other events


About the Richmond Chapter

WE HAVE MOVED!  Our chapter meetings, held on the second Tuesday of each month from 6:30 - 8:30 pm, will now be held in the library of the Side  by Side Youth Center, located at 2311 Westwood Avenue.  The library is located on the second floor and is accessible by a separate door.

The meetings frequently feature a program of interest to the community, along with time for sharing and disucssion.  Often, the focus of the discussion is on how family, friend, and community relationships are impacted by an individual questioning and/or redefining his/her/their sexual orientation or gender identity.  ALL DISCUSSION IS CONFIDENTIAL.
IMPORTANT:  Please see the Events page for a statement regarding our next meeting.